Article from FOCUS Magazine – Winter 14 issue.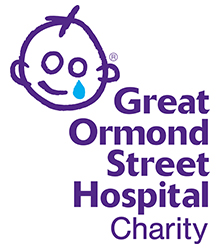 Great Ormond Street Hospital is one of the world's leading children's hospitals with the broadest range of dedicated, children's healthcare specialists under one roof in the UK. The hospital's pioneering research and treatment gives hope to children who are suffering from the rarest, most complex and often life-threatening conditions, from across the country and abroad.
Money raised for Great Ormond Street Hospital Children's Charity goes towards rebuilding and refurbishing the hospital, providing vital up-to-date equipment and funding research into better treatments for the children.
There are lots of ways to support Great Ormond street Hospital Children's Charity this year:
The Great Christmas Stocking Appeal invites supporters to send special season's greetings on a Christmas stocking to patients at the hospital. The messages are then beautifully displayed at the hospital for patients, staff, families and friends to read. To create your own stocking  simply visit www.gosh.org/christmasmessage. You can then pick your stocking design, write your special message and make your donation.
Christmas Carol Concert – On Tuesday 9 December Great Ormond Street Hospital Children's Charity will host their 15th annual Christmas Carol Concert at the beautiful St  Paul's Church, Knightsbridge to raise vital funds for the world famous children's hospital. This enchanted evening sponsored by travel experts Trailfinders will include traditional carols and heart-warming, festive readings by some very special guests. The festive proceedings will be accompanied by live performances from the Choristers of Thomas's Battersea, the London Fellowship Band and the Band of the Welsh Guards to really capture the Christmas spirit.
The event is expected to raise vital funds for the Look Inside appeal, an initiative to help fund the hospital's life-saving imaging equipment. This will help to improve diagnosis, monitor progress and help make critical decisions about treatment as the hospital continues to deliver world class care to its patients. Tickets for the Carol Concert are priced from £25 and are available from carolconcert@gosh.org

Christmas shop – This year Great Ormond Street Hospital Children's Charity has a fantastic array of stocking fillers and festive gifts for all the family. From beautiful homeware, stationery and Christmas cards to colourful t-shirts, hoodies and soft cuddly bears, there's something for everyone! Best of all, the proceeds from each and every gift sold will directly benefit the children at Great Ormond Street Hospital. Visit our online shop today for a fabulous range of great value cards, gifts and essentials www.gosh.org/shop

Donations – Great Ormond Street Hospital Children's Charity raises funds to help rebuild and refurbish the hospital, provide accommodation for parents and fund vital research and equipment. You can help patients and families this Christmas by making a donation at www.gosh.org/donate