Article from FOCUS Magazine – Autumn 16 issue.
Carrot Cake with Cream Cheese Icing
•   SERVES 8–10
•   1 hr 30 mins plus cooling
INGREDIENTS
300ml (10fl oz) sunflower oil, plus extra for greasing
300g (10oz) self-raising flour, sifted
1 tsp ground cinnamon
1⁄2 tsp ground ginger
1⁄4 tsp grated nutmeg
300g (10oz) caster sugar
4 eggs
250g (9oz) grated carrots, squeezed to remove excess moisture
75g (21⁄2oz) walnuts, roughly chopped
For the icing
100g (31⁄2oz) unsalted butter, softened
100g (31⁄2oz) cream cheese, at room temperature
400g (14oz) icing sugar
grated zest of 1 large orange, plus extra to decorate
SPECIAL EQUIPMENT
2 x 23cm (9in) cake tins
PLAN AHEAD
You can store the unglazed cakes in an airtight container up to 5 days ahead
METHOD
1    Preheat the oven to 180ºC (350ºF/Gas 4). Grease and line the tins with baking parchment. Combine the flour, spices, and caster sugar in a bowl. Beat the eggs and oil in a jug and add to the dry ingredients. Then add the carrots and walnuts and stir well to form a stiff batter.
2    Divide the batter equally between the tins. Bake for 45–50 minutes, until the cakes are golden brown and an inserted toothpick comes out clean. Cool in the tins on a wire rack for 10 minutes. Then turn them out and place on a wire rack to cool completely.
3    For the icing, whisk the butter and cream cheese in a bowl until smooth. Gradually whisk in the icing sugar, until combined. Then add the orange zest and whisk well. The icing should be smooth and fluffy.
4    Sandwich the cakes with one-third of the icing. Use the remaining icing to cover the top and sides of the cake. Sprinkle over a little orange zest and serve. You can store the cake in an airtight container for up to 5 days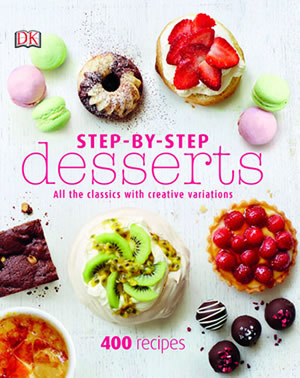 Step-By-Step Desserts
Published by DK (£20.00)
www.dk.com