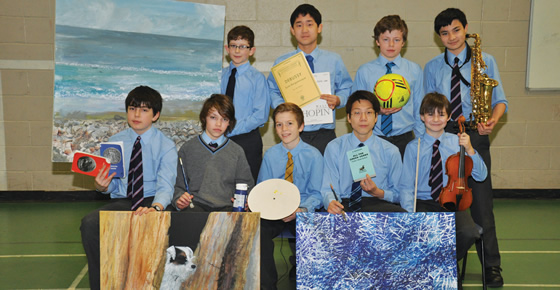 Papplewick School
Windsor Rd, Ascot, Berkshire SL5 7LH
T: 01344 621488
E: registrar@papplewick.org.uk
W: www.papplewick.org.uk
Headmaster: Mr Tom Bunbury, BA PGCE
Papplewick School, an independent boys-only preparatory school in Ascot, for boys aged 6-13, has an excellent record for academic achievement and feeds many of the UK's top independent senior schools.  Indeed, this year, thirteen boys in Year 8 achieved fifteen scholarships or exhibitions to top UK public schools.
Coupled with this academic success, the school, which is set in 15 acres of land opposite Ascot Racecourse in Berkshire, is also able to offer a vast range of both sporting and extra-curricular activities.
Headmaster Tom Bunbury understands that young boys thrive on activity.  He  believes they have a natural spark and individuality, and a boundless energy, which should be celebrated throughout their early years at school.
"Boys tend to engage physically with the world," he says. "When out walking in the woods, they will immediately pick up a stick. Girls don't do this.  But boys like to touch the world, poke at it, and explore it physically.  They have to move. When this energy is channeled properly within an educational environment, via extra-curricular and sporting activity, boys will thrive, both academically and physically."
At Papplewick boys are given the chance to work off their energy via a huge range of extra-curricular activities.   They can try, for instance, karate, squash, photography, scuba diving, polo, riding, real tennis, clay pigeon shooting, golf, chess, drama, cookery, Bibliomanics, Airfix club, Lego and craft activities, Junior Jigsaws, board games, Harry Potter Club and martial arts.  There's also a highly popular Snake Club, where boys own their own pet, ranging from bearded dragons to corn snakes.  Every boy is encouraged to try out as many new experiences as possible during these school years.
Through sport the school aims to build the important skills of teamwork, commitment and sportsmanship.  As well as rugby, football and cricket, inter-school matches are played in tennis, hockey, swimming, athletics, squash, basketball, golf, shooting and polo.  The facilities include a large sports hall, covered swimming pool and floodlit astroturf, offering even more variety through the sports programme. The sports staff teach or work in classrooms, helping to transfer values between the two different environments.
Alongside academic, sporting and cultural excellence, Papplewick aims to provide boys with the confidence and security they need to fulfil their potential, and the school strives to promote enthusiasm for life, contribution to the community and kindness to others amongst all its pupils.