Sir William Perkins's School
Guildford Road, Chertsey, Surrey KT16 9BN
T: 01932 574 900 E: reg@swps.org.uk W: www.swps.org.uk
Head: Mr Chris Muller BA
Of the many questions which I am asked as a Head of a very successful all girls independent school, the most frequently raised by prospective parents, is the issue of single sex or co-ed education. There are many answers to this of course; girls in GSA (Girls' Schools Association) schools do better academically on almost every level and in almost every subject.
At a time when the choice of A levels and degrees are becoming increasingly divided along gender lines, it is girls at all girls' schools who are 75% more likely to take Maths A Level; indeed at my own school, almost two-thirds of the Lower Sixth are taking Maths. They are 70 per cent more likely to take A level Chemistry and at a time when we read that almost half of co-ed sixth forms have no girls taking Physics at A level or at university, it is girls at single sex schools who are two and half times more likely to take Physics A level. But it is not just in the sciences that girls in single sex schools do better: they are also twice as likely to take modern languages at A level.
I provide parents with a simple anecdote which represents one of the unique features of an all girls' school. In common with most schools, we hold a Careers' Fair at which our students are able to discover what careers are available once they have left full-time education. Fulfilling yet usual careers are on display: law, medicine, veterinary science, accountancy and many others.
Our school's proximity to McLaren enables engineering to be well represented amongst the careers that the girls might choose. At last year's Fair, engineers from McLaren brought an entire Formula One engine which took pride of place in the Hall and nearly every girl made her way, confidently, excitedly and purposefully, to inquire from the engineers how the engine worked and, more thrillingly, how they could join such an exciting profession.
I tell this story as an example of something which, I suspect, would not happen in a co-ed school. In the same situation, it would have been the boys who would have made their way eagerly to the McLaren engineers, whilst the girls, every bit as intelligent and curious, would have held back and remained silent.
The national figures support my conclusions – the latest figures are compelling: across all engineering courses, there were 24,710 new male students and 4,405 women.
At single sex schools we see, ironically, gender stereotypes being abolished; girls are able to study what they want to and choose subjects that they will excel at and avoid society's pressure where some disciplines and some careers are perceived to be best suited to one gender or the other.
Mr Chris Muller BA
Head
---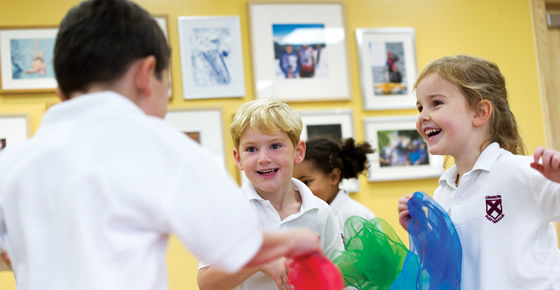 Cranmore School
Epsom Road, West Horsley, Surrey KT24 6AT
T: 01483 280340 E: office@cranmoreprep.co.uk W: www.cranmoreprep.co.uk
Headmaster: Mr Michael Connolly BSc BA MA Med
The Happiest Days of Your Life is a classic British comedy which was a successful play before becoming a movie hit. Filmed in 1950, the humorous thread running throughout is the "crazy notion" that boys and girls can be educated together. The central plot is that St Swithin's Girls' School is accidentally billeted with a boys' school. The jolly japes include attempts to prevent visitors discovering that girls' lacrosse and boys' rugby are being played at the same time.
Of course, this scenario seems terribly quaint for education in the 21st Century. Most people think there is nothing remarkable about teaching boys and girls together. Nevertheless, the debate continues on whether or not boys and girls should be educated apart. In truth, there is no easy answer to this question. Perhaps it is more useful to look at other factors which might influence a child's education such as the quality of the teaching, the curriculum on offer, the range of extra-curricular activities, and last  but not least, the facilties and resources which a school has at its disposal.
It is striking that a number of former "boys' only" schools have decided to cater for girls too, although the reverse is quite rare. The evidence available indicates that such tranformations have been very successful.
At Cranmore School, which was a very strong boys' school for decades, we now have a marvellous co- educational Nursery (Bright Stars at Cranmore) and have extended this co-educational model to age 7. The introduction of a Forest School and other outstanding features are equally appealing and relevant to the development of both boys and girls. There is no doubt that young children can work very well together and, from a practical point of view, it can make life much easier for parents if sons and daughters share the same school run.
One structure for education which has drawn attention in recent years is the Diamond Model in which there is co-education in the primary years with a separation for teens before joining as a co-educational Sixth Form.
In the end, parents should recognise that the quality of a school is unlikely to be determined by whether or not it is single-sex or co-educational. There are far more aspects which influence the outcome and it is better to refer to inspection reports, the Good Schools Guide and other authoritative sources in order to obtain a true picture of a school's character. Only then can parents attempt to match their child's needs with what is offered and, it hardly needs stating, a visit to the school is essential.
Mr Michael Connolly
Headmaster
---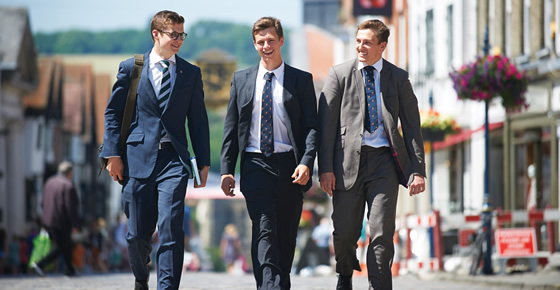 Royal Grammar School
High Street, Guildford, Surrey GU1 3BB
T: 01483 880600 E: admissions@rgs-guildford.co.uk W: www.rgs-guildford.co.uk
Headmaster: Dr J M Cox
The RGS, founded in 1509, has evolved and developed throughout its distinguished history, continuing to take genuine pride in offering an education which incorporates the very best practice and technology of its time. Throughout these 500 years of change, however, there has been one constant: the RGS has maintained an innate belief in the value of single-sex education through generations of inspirational and erudite teachers. We believe that the model which exists at the School is one which allows us to cater to the talents of each individual. The boys are supported in fulfilling their potential while at school and also given the autonomy, flexibility and independence to prepare for life beyond the RGS.
An education tailored for boys requires the centrality of activity and physical movement; hands-on learning; healthy competition and a competitive aspect to tasks and challenges; the element of surprise and unpredictability; and, importantly, the fun-factor. In addition, to create a positive learning environment there needs to be baseline rigour, respect and mutual trust.
We like to think that all these elements are embedded within the culture of the School. The RGS recognises that to educate boys effectively, teachers must cater to active learners whose kinaesthetic and physical attributes mean the need for competition, movement and fun is vital. Clear rules, high expectations, mutual respect and strong relationships then provide the reassuring foundations for boys to take risks and innovate. Whether it is the choice of literary texts to capture the imagination and which are geared to the interests of boys; or the need for a very practical approach in science experiments or design projects; or the use of technology; or getting the boys out of the classroom and thereby challenging and surprising them, we aim to inspire and enthuse the boys at the RGS so that the classroom is simply one part of the learning experience. Pleasingly, these were the same aspects which the recent ISI (Independent Schools Inspectorate) Inspection of the RGS highlighted in their report. Teachers were regarded as having an excellent understanding of pupils' needs; pupils were regarded as flourishing across the curriculum and extra-curricular activities.
In a single-sex environment boys can develop and mature at their own pace and can also reverse national trends: art, drama, music, sport are all equally accessible – and perhaps more importantly – are all equally valued and respected. We feel that the boys are able to express and challenge themselves irrespective of their chosen field. The educational environment allows the boys to flourish while the School's close ties with the local girls' schools and the strong sense of community and family which strengthen these links mean the boys benefit from regular academic, extra-curricular and social interaction with the girls while still enjoying all the benefits and advantages of single-sex education: an education tailored for boys.