Article from FOCUS Magazine – Autumn 16 issue.
There has been some debate as to which provides a better environment for learning but most agree that there are benefits to both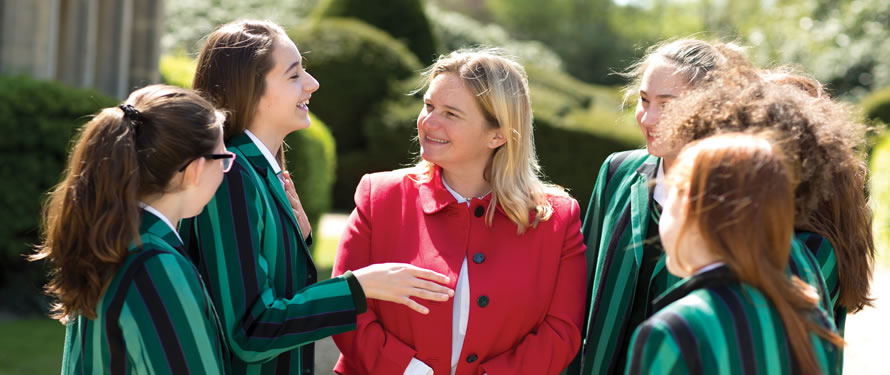 FARNBOROUGH HILL, Farnborough Road, Farnborough, Hampshire GU14 8AT
T: 01252 545197 E: admissions@farnborough-hill.org.uk  W: www.farnborough-hill.org.uk
The strength and popularity of girls' schools is clear to see whether you are looking at academic league tables or the myriad of extra-curricular activities that girls excel in, as they do at Farnborough Hill. The school is thriving and Head, Alexandra Neil, is not surprised. She believes that parents understand how important a good education is for their daughters (she has a daughter herself) if they are to fulfil their potential and develop the confidence needed for later life.
Farnborough Hill's success is achieved by an impressive blend of academic rigour and outstanding pastoral care in an environment that supports girls to try new things and go beyond their comfort zone.
Mrs Neil believes that a girls-only school caters best for girls by providing them with a place where they can be themselves without having to conform to gender stereotypes; science and mathematics are particular strengths of the school, alongside its reputed strengths in music, the arts and sport.
The staff at Farnborough Hill are a talented and dedicated team who work in partnership with the girls and their parents to ensure that everyone is happy at  school and performs to their best. The teachers are  experts in the education of girls; they teach creatively and with passion and the girls respond brilliantly. This leads to very high proportions of A* and A grades in GCSE and A level examinations, so important for accessing the top universities.
Excellent careers provision ensures the girls are well-prepared for university and the world of work. The many leadership opportunities enable them to learn how to take risks and inspire and lead others. School Council, chaired by the Head Girl, meets regularly and has helped to re-draft important school policies such as the Behaviour policy and the Responsible Use of ICT policy. National success in public speaking and debating competitions also gives them great self-confidence for the future, as does taking part in challenging expeditions abroad during the summer months.
During the past few years facilities have come on apace. Mrs Neil believes that environment matters to girls and so the improvements to the school have taken this into account. The science laboratories have colourful seating, there are nooks and crannies with comfortable sofas where girls can sit and chat; the school is kept  warm (whilst still attending to our carbon footprint) reflecting the fact that girls work better in a warmer environment.
The latest addition is a beautiful music suite which comprises a performance space, a state-of-the-art music technology classroom, recording studio and other music rooms… along with some colourful sofas of course!
Alexandra Neil holds the view that learning should be fun, that lessons should be inspiring so that school work never becomes a chore, and she never ceases to be amazed by how much the girls pack in to one day. Whether it is sports practices, music rehearsals, attending the exciting talks programme or dancing their way through the lunch hour for charity, she firmly believes that Farnborough Hill establishes a positive can-do attitude which develops the self-confidence the girls need for bright and fulfilling futures.
If you would like to find out more about Farnborough Hill the next Open Afternoons are on Friday 7 October and Tuesday 15 November: please call Director of Admissions, Clare Duffin, on 01252 529811 to book a place.
Alexandra Neil is the new Head at Farnborough Hill, succeeding Mrs Sarah Buckle who retired this summer having led the school since 2007. Alex has been Deputy Head at Rye St Antony School since 2007.
'I am thrilled to be leading such an excellent school. Farnborough Hill combines outstanding pastoral care, a holistic approach to education and excellent academic  and extra-curricular achievements and opportunities for all its girls. This ethos chimes with my belief in the value of each individual and my deep commitment to developing the skills and talents of each person. I am a great advocate of an education with a spiritual centre due to the value of the cohesive community that it  creates, built out of diversity, allowing tolerance and understanding to flourish'.
Mrs Neil is a Catholic, married to James who is a chartered surveyor and they have two children aged 14 and 11. She takes an active interest in sport; she has competed in several triathlons, is a keen scuba diver, and has recently taken up fly-fishing and golf.
---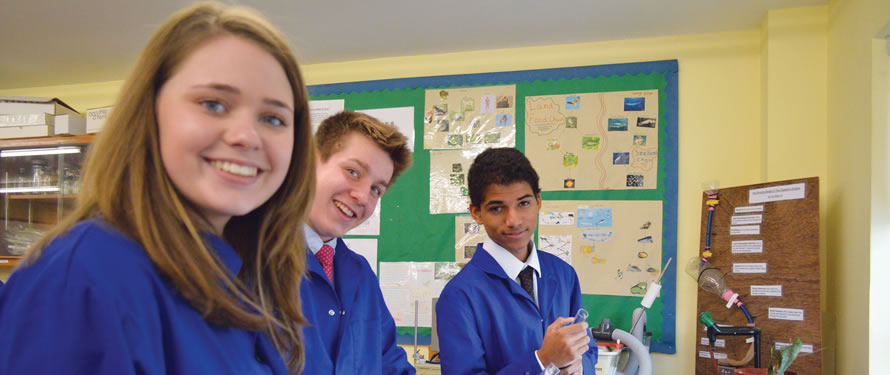 HALLIFORD SCHOOL, Russell Road, Shepperton, Surrey TW17 9HX
T: 01932 223593  E: registrar@halliford.net W: www.hallifordschool.co.uk

One of the regular themes in articles about Education is the dilemma for parents in deciding whether to send their children to a single sex or co-educational school. Many Headteachers will trumpet their own school's status with arguments that, at face value, seem coherent and sound. However, like many arguments based on statistics, i.e. that girls/boys perform better/worse in single-sex/co-educational schools, I think that this rather misses the point. To me it is clear that there are obvious benefits on both sides of this debate and that neither single-sex nor co-educational schools can ever be judged to be "best". The statistics also have an inbuilt flaw in them, as we can never truly judge whether pupil A would perform better in a single sex or co-educational school, as pupil A can only ever attend one type of school at a time.
My evidence is based on three aspects of my own experience: As a parent, my children attended a range of schools in their education and they flourished because of the ethos and culture of their schools, not because they were single sex or co-educational; As an Inspector for the Independent Schools Inspectorate I have inspected all  types of school, and again, the best practice is not exclusive to one type of school; and finally as a teacher who has worked in both types of school, my firm belief is that there are benefits on both sides of this educational divide, and that neither offers the perfect solution. It may have been in the past that single sex school pupils gained some academic advantage by being free from the constraints of having to impress members of the opposite sex, but in the modern era pupils have active social lives and have far more access to the co-educational world we live in (this of course brings other problems, but that is a subject for another article).Here at Halliford, the mantra for my school, and I suspect the vast majority of schools, is that we want the very best for the individual and there is no doubt in my mind that different pupils suit different schools. Yes, single-sex/co-education will be a factor, but so will the size of school, teacher/pupil relationships, facilities, extra-curricular opportunities, pastoral systems, location, parental support and many others. The real dilemma for parents is therefore to try and predict whether school A or school B will suit their child best.
Mr Simon Wilson, Headmaster
---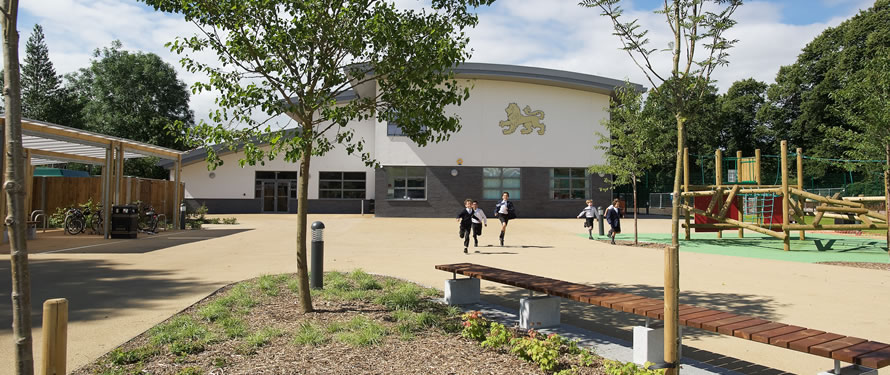 HAMPTON PRE-PREP & PREP SCHOOL Gloucester Road, Hampton, TW12 2UQ
T: 020 8979 1844   E: admissions@hamptonprep.org.uk  W: www.hamptonprep.org.uk
Topped by a 'green roof' covered in alpine plants, Hampton Prep School's new building is not only state-of-the-art, but is kind to the environment. Sustainability was a key element in the project, going hand in hand with creating a bright, welcoming and eco-friendly school. Headmaster Tim Smith said the project has created a wonderful learning environment. "From the beautifully light and airy classrooms, to the music rooms, IT suite, art department and our modern new performance hall, coming to school is a pleasure for all and can only enhance pupils' learning here."
The school's grounds ensure that pupils have as much space as they need for outdoor play, games and sporting activities which Mr Smith believes are essential factors in ensuring a balanced, happy and healthy education. "Every child needs to run about and let off steam and our new all-weather multi-use games area allows the children to  play outside all year round," he said. "The new grounds also enable us to run an extensive selection of outdoor clubs and we are delighted with our new allotment garden and potting shed. Gardening club has already proved to be extremely popular and we are looking forward to a bumper crop of vegetables this year!"
The opening of the new prep department coincided with a change of name for the school, from Denmead to Hampton Pre-Prep & Prep School. For Mr Smith, the new identity was a natural progression as the Pre-Prep & Prep School was already part of The Hampton School Trust and enjoys strong links with the nearby Hampton School. "Both schools work closely together and we adhere to the same principles offering an all-round balanced education with exceptional pastoral care. We pride ourselves on providing a nurturing environment that allows every pupil to thrive and fulfil their potential wherever their interests may lie, and a significant number of Hampton Prep boys go on to join Hampton School at 11+ each year, many via the Hampton Assured Places scheme that is available for boys from Year 2 through until Year 5."
Inspectors from the Independent Schools Inspectorate had warm words of praise for the school in their 2016 report, commenting on the 'excellent' achievements of pupils. The report also highlighted the school's 'excellent' leadership, teaching and pastoral care, adding that 'a close and nurturing atmosphere is at the heart of the school'. Added Mr Smith: "An important part of our ethos is the understanding that we rely on each other. That sense of collaboration and shared endeavour is very important to us."
To arrange a visit to Hampton Pre-Prep & Prep School book a place on an Open Morning via the website  www.hamptonprep.org.uk or call the admissions office on 020 8979 1844.