Article from FOCUS Magazine – Winter 13 issue.
SURBITON HIGH SCHOOL
Surbiton High School prides itself on the huge range of opportunities that are available to be creative. We have one of the best equipped Art departments in the country, which consistently produces excellent examination results; this year almost 90% of GCSE Art students attained A*-A and we have many students who gain 100%.
As well as delivering an outstanding curriculum, pupils are inspired through numerous Co-Curricular Clubs and Art trips to places such as New York, Paris and Morocco. We encourage our students to be involved with art in many ways. There are opportunities to design and make costumes, create and build sets for our annual school production at the Rose Theatre, as well as illustrations for programmes. Our gifted and talented students are currently working on a public sculpture project. The school newspaper 'High Times' will also be going online this year and will provide further opportunities for pupils studying Art to write and review articles.
Photography and film making is also popular and we have photographic competitions across the School as well as several budding film makers. Last year we also had two winning entries in the United Learning photography competition, which was run by Bournemouth Collegiate in partnership with Rotary. Every year we mount two exhibitions to showcase the GCSE and A-level Art work within the art studios and we have also exhibited at Kingston Market Hall and at the Royal College of Art; an exciting exhibition at a Gallery in London is planned for next year.
We are incredibly proud that a series of children's storybooks, written and illustrated entirely by talented Surbiton pupils, is on sale both in Regency Bookshop, Surbiton, and at Waterstones, Kingston. The illustrations are truly stunning and they bring to life the enchanting tale. The books were created as part of the Akenkan project, in which pupils are writing and illustrating their own series of reading books especially for children attending schools in rural Ghana. These schools have few resources or reading materials, and the Akenkan books were taken to these schools in July 2012, when 14 pupils had the unique opportunity to go on expedition to Ghana. They presented the books, ran a summer school and experienced first-hand the impact of their hard work (www.akenkan.org)
These opportunities, along with a variety of presentations by former pupils on Fashion and Art-related degree courses, empower a number of our girls to go on to study Art, Architecture, History of Art at degree level.
Surbiton High School
Surbiton Crescent, Kingston upon Thames, Surrey KT1 2JT
T: 020 8546 5245
F: 020 8547 0026
E: office@surbitonhigh.com
W: www.surbitonhigh.com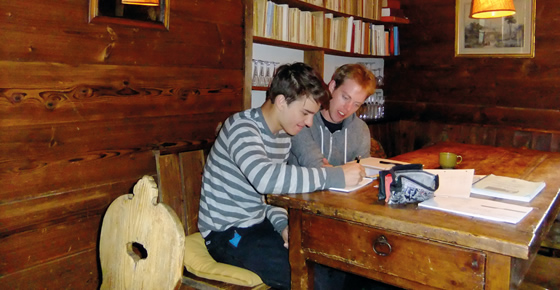 FLEET TUTORS
When I first stumbled upon the idea of becoming an academic tutor, I never envisaged teaching maths tutorials against a backdrop of the fjords of Norway, or passing on exam techniques in the ski resort of Verbier. These are two of my recent destinations as a residential tutor with Fleet Tutors.
In my experience having a tutor in the house, or holiday home, doesn't necessarily get the student out of bed any earlier, but when the work does begin, it begins in earnest. Working one-on-one with a tutor can be the missing link students are desperately searching for when trying to apply that learning to exam questions.
Taking a tutor away on holiday with you, or having them in your home for a school vacation, might seem like a strange undertaking at first. However the rewards reaped by your son or daughter will soon far outweigh the initial nervousness. Most likely such residential tutoring is going to fall on a holiday break. These breaks are great times for a tutor to feel like they can make that crucial difference for the student as he or she is gearing up to exam time.
It doesn't hurt that tutors are also motivators in disguise. The tutor is a parent's friend. An authoritative voice the parent might have lost over their child through those difficult teenage years. It's amazing how quickly a teenager will sit down and apply themselves for a two or three-hour study period (with the requisite tea breaks, of course) if it's asked of a tutor instead of a pushy parent. What this also means is that time, since it is being paid for, is precious.
While it might seem like a costly exuberance to take a tutor away on holiday, it can actually be less expensive and time consuming than sending your child off to an intensive revision course that is school in all but name. Did I also mention that taking a tutor along to the French Riviera gives you a chance to actually have a break yourself without worrying that your child is giving enough attention to their studies? Term breaks are a time for students to recharge their batteries (and you too) before that last, triumphant push to the exam halls. A tutor can take charge of making sure that happens as well as organising a revision schedule that gives your child the right balance and, most importantly, achieve their potential.
With a degree in Maths from Warwick and a MA in Screenwriting, Chris Hill combines his work as a part-time residential and after school tutor with Fleet Tutors with his career as a freelance writer. In addition to helping young people achieve A's in Maths, Chris' credits also include writing for an award-winning teenage television drama, which gives him a unique insight into the minds of teenagers.
Established in 1977, Fleet Tutors is Britain's leading national tutoring service provider, is recommended by the Good Schools Guide and is also used and recommended by schools across the country. For further information, visit www.fleet-tutors.co.uk or telephone 0845 644 5452.

FLEET TUTORS
The Old Library, Boundary Rd, Farnborough, Hampshire, GU14 6SF
251-253 Chiswick High Rd, London, W4 4PU
T: 0845 644 5452
E: clientsupport@fleet-tutors.co.uk
W: www.fleet-tutors.co.uk