Article from FOCUS Magazine – Spring 12 issue.
Discover a world where chocolate is king, where this best-loved ingredient is transformed into luscious, taste-tempting cakes, tarts, creams, mousses, iced desserts, drinks, biscuits and sweets
Mini Chocolate Macaroons Recipe
MAKES  30
DIFFICULTY  * * *
PREPARE  30 minutes
REST  20-30 minutes
COOK  10-15 minutes
REFRIGERATE  24 hours
Macaroons
125g ground almonds, sifted
200g icing sugar, sifted
30g unsweetened cocoa powder, sifted
5 egg whites (150g)
75g caster sugar
Ganache
150g dark chocolate
200 ml whipping cream
20g mild honey
This recipe must be prepared a day before serving.
CHEF'S TIP
Use a raspberry jam or chocolate-hazelnut spread as an alternative filling. Macaroons can be frozen after being baked.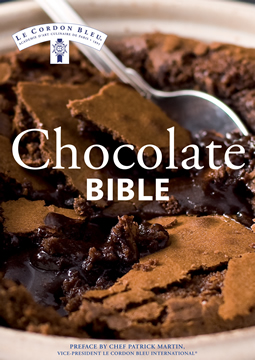 Macaroons Tip the sifted almonds, icing sugar and cocoa powder into a bowl; set aside. In a separate bowl, whisk the egg whites until frothy. Add 25g of the sugar a little at a time, whisking until the egg whites are smooth and shiny. Gradually add the remaining sugar, whisking until stiff peaks form. Slowly fold in 1⁄4 of the almond powder mixture, cutting straight down to the bottom of the bowl with a spatula, and lifting up the contents, bring the spatula up the side of the bowl while giving it a quarter turn. Add the remainder in the same manner, in 3 separate batches. Stop folding as soon as the mixture is smooth and shiny. Fit a piping bag with a 4mm round nozzle and fill with the macaroon batter. Cover a baking sheet with baking parchment; pipe 60 small rounds of batter, 2cm in diameter, on it. Set aside at room temperature for 20-30 minutes.
Preheat the oven to 160°C (320°F).
Bake the macaroons for 5-7 minutes then lower the oven temperature to 120-130°C (250-265°F) and continue baking for a further 5-7 minutes. Remove from the baking sheet and cool on a rack; refrigerate when the rounded part of the macaroon is hard.
Ganache Chop the chocolate and place in a bowl. Heat the cream and honey slowly until simmering. Pour half of the hot liquid over the chocolate and whisk to combine, add the remainder little by little, whisking gently; set aside until cold.
Spread the flat side of 30 macaroons with ganache and sandwich with the remaining halves. Refrigerate for 24 hours, when the centres will become moist.
Recipe from The Chocolate Bible by the Chefs at le Cordon Bleu
Published by Carroll & Brown Publishers Limited and available from internet and high street bookshops – www.carrollandbrown.co.uk