Article from FOCUS Magazine – Spring 14 issue.
The Ethicurean Cookbook reflects the growing trend for artisan food  and local produce and is an inspiration for how we should be sourcing our food and cooking at home over the next few decades
Tandoor Scallops, Celeriac Purée and Pickled Rock Samphire
Scallops are prized for their sweetness, which comes from the white meat, an abductor muscle that contains very high levels of mildly sweet amino acid. When eaten fresh, the taste is reminiscent of seaweed. You should be able to order hand-dived scallops from a good fishmonger. In this dish, their sweet nuttiness is complemented by the use of celeriac – a savoury, earthy element given more grandeur by being puréed with a rich chicken stock. The flavour is heightened with tandoori spices and pungent Indonesian long pepper, which add the final elements to this fantastic and relatively simple starter. Samphire and the salad leaf, red frill, work well together on the plate, for reasons of both aesthetics and taste – the two ingredients almost mirror each other and conjure up an image of the marine bed. If you would like to serve the scallop roes, poach them for 2 minutes in a little vegetable stock prior to serving.
Serves 4
16 diver-caught scallops, orange roes removed
1–2 tbsp rapeseed or vegetable oil
a handful of Pickled Rock Samphire
a handful of red frill (or other winter salad leaves)
a pinch of tandoori spice mix
a pinch of Indonesian long pepper
sea salt
For the celeriac purée
350g celeriac, peeled and cut into 1cm cubes
95ml brown chicken stock
80ml crème fraîche
1⁄4 nutmeg
First prepare the celeriac. Choose a pan large enough to hold a steaming basket and half fill it with cold water. Grate the nutmeg into the water and bring to the boil. Put the celeriac in the steaming basket and set it over the pan. Cover and steam until  the celeriac is very soft. Transfer to a blender or food processor, add the chicken stock and crème fraîche and blitz until smooth, scraping down the sides as needed. (For an extra smooth consistency, strain the purée through a fine sieve after blending.) Season with salt to taste and reheat gently in a pan.
Season the scallops lightly with sea salt. Set a large, heavy-based frying pan over a high heat for a minute or two. Add a thin film of rapeseed or vegetable oil to the hot pan; it should begin to smoke very lightly. Add the scallops to the pan one at a time, starting from the outside and working in a clockwise direction, spiralling towards the centre. By the time you have put in your last scallop, it will most likely be time to turn the first. An inviting golden crust should have formed on the underside. If it is still a little pale, leave for a further 30 seconds. Turn over all the scallops in order, following the clockwise spiral you made. When you reach the centre, return to the beginning and take out the scallops in order, checking that the underside has coloured too. Set aside to rest on a warm plate.
Place a spoonful of celeriac purée on each serving plate. Place 4 scallops on top of the purée, then decorate with the pickled rock samphire, red frill, a light dusting of tandoori spice and a small pinch of long pepper.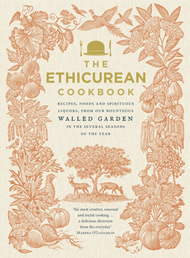 The Ethicurean Cookbook by Matthew Pennington, Iain Pennington, Paûla Zarate and Jack Adair-Bevan
Photography by Jason Ingram
Ebury Press, £25.00.
www.eburypublishing.co.uk