Article from FOCUS Magazine – Winter 13 issue.
Whatever the value of your home, everyone wants to keep the cost of running it as low as possible – especially with fuel bills on the rise.

Thankfully, and due to increasing interest from purchasers – although these are primarily northern European buyers who are more used to energy efficient homes than we are – developers are building properties that are cheap to run because of increased insulation, better build techniques and energy saving features. There are also a number of older properties on the market that have been refurbished by owners, who were keen on preserving their finances as well as the planet.
"Buyers are increasingly paying attention to the eco features of a property and considering the potential for improvement when purchasing a home" says Peter Knowles of Hamptons International in Kingston. "For most, the property comes first regardless of how ecologically efficient it is, but in light of ever increasing fuel costs the great savings that can be made with eco friendly properties are always an added and gratefully received bonus.  Alongside the obvious financial benefits of environmentally friendly living, buying an eco home comes with a definite feel good factor – feeling safe in the assumption that you are protecting the environment".
Hamptons is selling a modernised period family home in Park Road, Kingston, which has a heat recovery ventilation system and a heat bank hot water system, which provides continuous hot water at mains pressure without the need for noisy pumps. The kitchen is in the centre of the house with a dining area and bi-fold doors leading onto the 94 feet west-facing rear garden, reception room, family room with conservatory and integrated garage. There is also a cellar and the top floor bedroom could be used as a games room. The four/ five bedroom house, which is close to Richmond Park, is on the market for £1.495 million.
"There is definitely more interest from northern European buyers for energy efficiency with those purchasers asking about how the house is heated and run as they are used to seeing things like heat recovery systems, solar and thermo-dynamic panels in their homes. We in the UK are playing catch up with regard to energy efficiency" says Clive Moon of Savills' Wimbledon office.
He is selling Amberwood Court, a fabulous new property in Golf Club Drive, Kingston upon Thames. The eight bedroom house has been designed to be highly energy efficient with heating and hot water being provided by thermo-dynamic panels. It also has air source heat pumps, a heat-recovery ventilation system and rainwater is harvested for use in the garden irrigation system. "The only time the vendors turn on the gas boiler is when the temperature drops to minus 2 degrees" says Moon. "So with a home of this size, it could save up to £5,000 a year in heating and hot water bills". The lighting throughout is LED and the 19,000 square feet house has been built to a very high specification. With an indoor swimming pool, sauna and spa pool, gym and games room, Amberwood Court sits in mature landscaped grounds of over one acre adjacent to Coombe Hill golf course. It is on  the market with a guide price of   £7.95 million.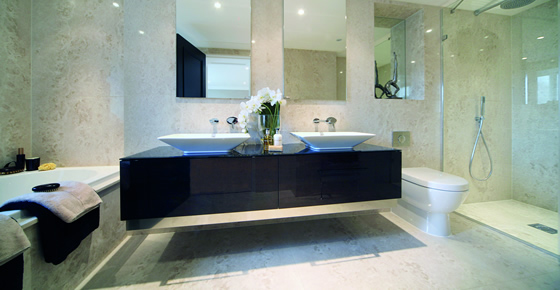 Also backing onto Coombe Hill golf course is Coomtata, a very large house which has been built to Sustainable Homes Code Level 4 standard with an air source heat  pump and photovoltaic cells for  generating electricity. It has an impressive entrance hall with large central oval staircase, three reception rooms, kitchen/dining/family room, indoor swimming pool, gym, study/ prayer room and eight bedrooms with the master bedroom having its own roof terrace. It also has a studio annexe with shower room. Features include under floor heating, iPad/ iPhone controllable heating, air conditioning, curtains, TVs, alarm  and CCTV and a Zip Hydrotap for chilled and boiling filtered water. The property, which is being sold by Chesterton Humberts, has access to the golf course via a private gate and is on the market for £8.95 million.
In Oxshott, there is an impressive house in Holtwood Road which has triple glazing, making a huge difference to heat loss (and heat gain in the summer), solar panels, a ground water harvesting system (to water the garden) as well as high specifications including cat 5 wiring and an integrated sound system. The property was built in 2010 by  Next Generation Homes and has a dramatic entrance hall and two reception rooms which lead onto a side terrace and garden respectively. A third reception room has a vaulted ceiling and triple height glass  windows with concertina doors and is overlooked by the first floor gallery, which has great views over the beautiful gardens. The top floor has a bedroom, bathroom, storage room and media room. The five bedroom house is on the market through John D. Wood with a guide price of £2.795 million.
"We are finding more and more these days that homes with eco- friendly features are definitely of interest to buyers" says Doug Parks of John D. Wood. "Solar panels and rainwater harvesting systems for example, are specifications that can significantly aid the saleability of a property".
Knight Frank has three energy efficient properties on their books – The Ford House in Chobham, a modern house in Thetford Road, New Malden and an ultra-contemporary home in New Road, Esher. The Ford House is a beautiful  period house in an idyllic location at the end of a no-through road. The owners have modernised the house over the last 8 years, including installing ground source heating which has made the property very economical to run at around £550 per month for all heating and electricity. There is a stunning double height dining room with vaulted ceiling, beamed living room and kitchen, five bedrooms and games room. The house is in 4.2 acres, with grounds running down to a stream, a stable block, garage for three cars, floodlit tennis court, orchard and paddocks. Knight Frank's Guildford office is selling the property with a guide price of £2.95 million.
No 64 Thetford Road in New Malden has six bedrooms with integral garage and has been built to eco-friendly standards which include solar  powered hot water, rainwater harvesting, a very high level of insulation and a heat recovery and ventilation system. The large, triple aspect kitchen/dining/family room leads onto a decked patio and lawned garden and there is under  floor heating throughout the ground floor and all the bathrooms. It is on  the market through Knight Frank's Wimbledon office for £1.7 million.
The contemporary house in Esher has five bedrooms and has been built by Crane Associates to an extremely high specification, using sustainable features. The property has an     exceptional thermal performance and air tightness leading to lower running costs and five solar panels for generating electricity. With three reception rooms, pretty landscaped gardens including a Japanese style rock garden, hardwood entrance bridge and hardwood deck across the width of the house at the rear plus off street parking, No 29 New Road is on the market for £2.5 million through Knight Frank's Esher office.
Richstone Properties have a superb development of four houses and two apartments in East Sheen, close to  the high street, called Pembroke. These are set within landscaped grounds and have a striking contemporary design with brick, render and eco-friendly cladding by Kebony. The homes are spacious with flexible accommodation and are very light because of the roof lights and large windows.
This whole development meets the Sustainable Homes Code Level 4 standard and energy efficient/eco features include a high level of insulation, under floor heating, electricity and hot water powered by solar panels, LED lighting and the use of environmentally friendly materials throughout. Running costs are estimated to be reduced by over £560 a year.
Richstone Properties has also designed the homes and external areas to meet Lifetime Homes standards of accessibility with level access to garden areas, external refuse, recycling and compost storage and secure bike storage provided.  And the ecology of the site has been improved by incorporating the planting of native species, a sedum roof, bat and bird boxes and an 'insect hotel' – a manmade structure of natural materials to provide a beneficial habitat for insects and amphibians.
"We've always been passionate about building environmentally friendly homes that do not compromise on luxury" says David Rich-Jones, CEO of Richstone Properties.
Outside, there is gated off-street parking for each property. Featherstone Leigh is selling the properties from £350,000 for a one bedroom apartment and from £1.395 million for a three bedroom house to £2 million for a four bedroom house.
And at Kingswood Warren Park, an exclusive development set in mature parkland in the heart of the Kingswood Estate and where Octagon have just three properties left to sell, the developer has put in several features to help reduce running costs. The Victorian mansion, has been converted into 8 large apartments and the 14 detached new houses are set in 19 acres.
Both converted and new properties have under floor heating generated from air source heat pumps, solid cement floors ensuring a high level of soundproofing, high quality kitchen and utility appliances that use a reduced level of energy, pressurised water systems encouraging cost efficient showers for all the family and sophisticated light and media controls easily operated from one panel.
"Whether a brand new house, or a conversion, Octagon apply the same stringent rules, when it comes to sound and heat insulation" says  David Smith, Octagon's Group Head of Marketing. "Our purchasers are happy to pay a premium for one of  our homes, but at the same time, they will not accept hefty energy and maintenance bills for the privilege. Octagon homes require the minimum of maintenance, both inside and out, which over an extended period, makes them very cost and energy effective. Even the landscaped gardens are designed to be easy to maintain."
The one remaining two bedroom mansion apartment with 27 feet 9 inches reception room and roof terrace is priced at £1.2 million; the two five bedroom houses are priced  at £2.5 million and £2.75 million.